Dubai, renowned for its remarkable architectural marvels, top-notch amenities, and a perpetual sun-soaked climate, stands as a premier global destination, drawing visitors from all corners of the world. Consequently, the prospect of investing in holiday homes within the city has surged in popularity. Yet, prior to taking the plunge into this thriving real estate market, one must meticulously weigh several critical factors to secure a prosperous and lucrative venture.
Before investing, you need to carefully evaluate various aspects of your potential holiday home. Additionally, conducting thorough research, seeking professional advice, and aligning your investment goals can help you make informed decisions and prepare for the long term. These factors can make or break your investment:
Location – The old real estate adage, 'Location, location, location,' holds true in Dubai as well. The location of your holiday home can significantly impact its rental yield and future value. Some of the most sought-after areas for holiday home investment in Dubai include Jumeirah Village Circle, Business Bay, Dubai International City, Deira, and Dubai Marina. These locations offer proximity to key attractions, business centers, and leisure options.
Appearance & Amenities – Aesthetics matter. Potential guests are much more likely to be drawn to a vacation property that is well-maintained and has an appealing appearance. It's imperative to make sure your property has all the necessities, such as air conditioning, a fully functional kitchen, laundry facilities, and dependable Wi-Fi.
Research – Conduct thorough research on the Dubai real estate market, including current property values, rental yields, and market trends. Knowledge is your greatest ally when making investment decisions.
Professional Advice – When it comes to making informed investment decisions, seeking the counsel of seasoned professionals familiar with the intricacies of Dubai's real estate market is paramount. Real estate agents, property management firms, and legal advisors can offer invaluable insights and expert guidance to navigate the complexities of this dynamic market.
Investment Goals – Clearly define your investment goals. Are you looking for short-term gains through high rental yields, or are you aiming for long-term capital appreciation? Understanding your objectives will help you tailor your investment strategy.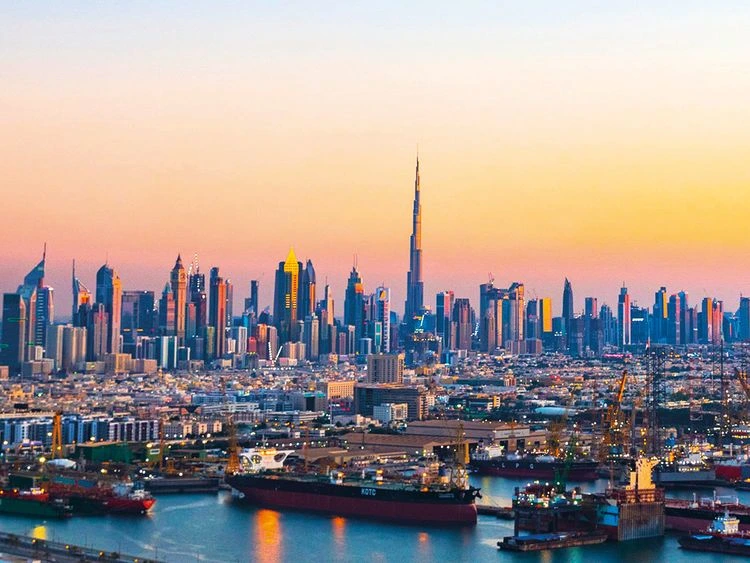 Sought-After Places for Investing in Holiday Homes
Now that you have a grasp of the key factors to consider, let's explore some of the sought-after areas for holiday home investment in Dubai:
Jumeirah Village Circle – Located close to Dubai's major attractions, Jumeirah Village Circle is a preferred choice for investors. It offers a mix of townhouses and apartments, making it suitable for various budgets. With its tranquil atmosphere and well-planned infrastructure, it's a favorite among families and holidaymakers.
Business Bay – Business Bay is a bustling hub for corporate travelers. The area's proximity to major business centers and its contemporary apartments make it a lucrative choice for holiday home investors. Business Bay provides a perfect blend of work and leisure.
Dubai International City – This diverse community showcases a mix of cultural influences, and its affordability attracts budget-conscious tourists. With a wide range of apartment options, Dubai International City is an attractive destination for holiday home investors.
Deira – Deira offers a taste of Old Dubai and is known for its traditional souks, historic sites, and waterfront views. It's a unique choice for those who want their guests to experience the heritage and culture of the city.
Dubai Marina – Dubai Marina is renowned for its luxury waterfront living. It's a prime location for high-end holiday homes, offering stunning views, upscale dining options, and a vibrant atmosphere. The area's popularity ensures a steady flow of tourists.
Each of these areas has its unique advantages, ensuring a prosperous and satisfying investment journey. Whether you seek high rental yields, cultural experiences, or luxury living, Dubai has a holiday home investment option to suit your preferences.
In conclusion, investing in holiday homes in Dubai is an attractive prospect, but it requires careful consideration and planning. With the right location, property appearance, essential amenities, thorough research, professional advice, and clear investment goals, you can make informed decisions and prepare for a successful venture. As Dubai continues to thrive as a global travel destination, your holiday home investment may just be the golden ticket to financial success and the opportunity to share Dubai's wonders with travelers from all corners of the world. Connect with Azco Real Estate and Azco Holiday Homes for further assistance.