Dubai has evolved into a welcoming oasis for pet owners searching for a home that warmly accommodates their furry companions. Finding the perfect pet-friendly community isn't always a straightforward task, which is why we have created this guide to assist you in discovering your ideal pet-friendly accommodation in Dubai. Here is everything you need to know.
How Pet-Friendly is Dubai?
Over the years, Dubai has remarkably transformed into a pet-friendly haven, boasting numerous pet-friendly communities, parks, and services tailored to cater to pet owners' needs. However, it's crucial to remain well-informed about specific regulations and guidelines when considering pet ownership in the city.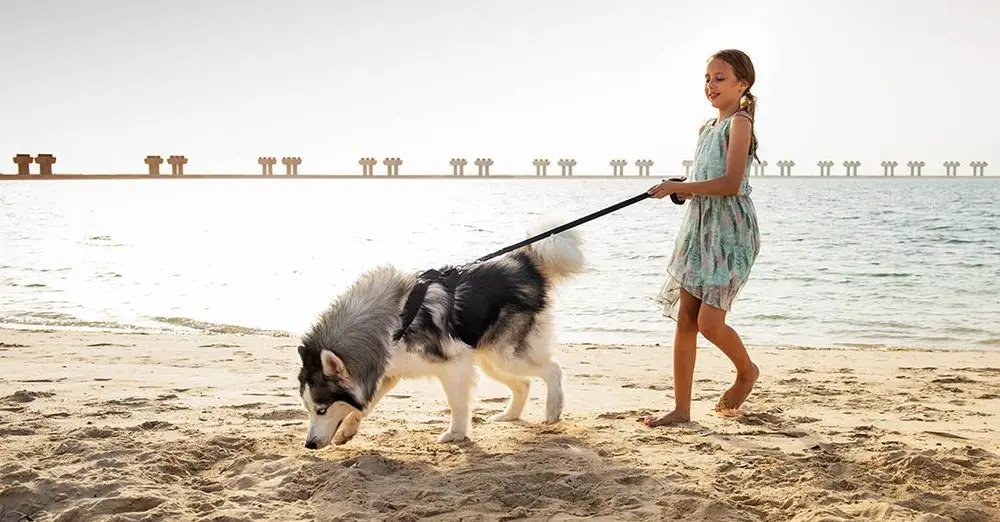 Pet Owners Checklist – What Is Essential?
Before you decide to bring your pet to the vibrant city of Dubai and choose your place of residence, consider this essential checklist:
Check Hotel Restrictions
If your stay in Dubai involves a hotel, it is recommended to review the hotel's pet policies. While many hotels now cater to pet owners, some still have specific restrictions. Ensure you select and book accommodations that are pet-friendly and may even offer special amenities for your pets, such as pet-friendly room service menus and pet-sitting services.
Areas Where Pets Are Allowed
Dubai is home to numerous pet-friendly communities that offer a perfect environment for both you and your beloved furry friend. The Palm Jumeirah, Arabian Ranches, and Jumeirah Village Circle are just a few of the neighborhoods that have wholeheartedly embraced the concept of pet-friendly living. These areas provide lush parks, designated dog-walking zones, and even pet-friendly cafes where you can relax and socialize with fellow pet owners.
Extra Charges for Pets
When selecting a pet-friendly community or apartment, it's vital to take into account any additional charges associated with pet ownership. Some communities may necessitate a pet deposit or impose monthly pet fees, so be sure to include these costs in your budgeting considerations.
Bring Your Own Feeding Bowls
One invaluable pet-friendly tip is to bring your pet's own feeding bowls. This ensures that your pet always has access to clean, familiar dishes, simplifying mealtime. In Dubai's pet stores, you can find a wide variety of stylish and practical pet bowls, ensuring your pet dines in style.
Pet Beddings
Another way to make your pet feel at home in Dubai is to provide them with comfortable pet beddings. In pet-friendly communities, your pet's comfort is a top priority, promoting a cozy and luxurious lifestyle.
Waste Bags
Clean Up After Your Dog Last but certainly not least, being a responsible pet owner in Dubai is of utmost importance. Always carry waste bags when you're out with your pet, and make certain to clean up after them. This commitment to cleanliness and safety is highly regarded in Dubai's pet-friendly communities.
Where Can I Live in Dubai with Pets?
Dubai offers a multitude of options for pet owners, whether you're looking for short-term rentals, hotels, apartments, or villas. Your choice ultimately depends on your preferences and budget.
If you are planning to live in a community, these pet-friendly communities are among the best:
Best Communities with Pet-Friendly Facilities in Dubai
Jumeirah Village Circle
Jumeirah Lake Towers
Dubai Hills Estate
The Springs
Dubai Sports City
Arabian Ranches
Pet-Friendly Hotels in Dubai
JA Hatta Fort Hotel
Grand Hyatt Dubai
Park Hyatt Dubai
Maisan Hotel
Arabian Park Hotel
Jumeirah Creekside Hotel
Andaz The Palm Hotel Apartments
Conclusion
Dubai welcomes everyone, including pet owners. With proper preparations and choices, pet owners can enjoy a fulfilling life in this vibrant city alongside their furry companions, making Dubai a genuinely pet-centric destination. In this article, we have covered a checklist and communities you can consider for living with your furry friend.