Discover the allure of a staycation like never before with Holiday Home Services in Dubai. Unveiling a world of local exploration and relaxation right at your doorstep, this guide is your key to unlocking an authentic travel experience within the heart of this vibrant city. As the bustling metropolis of Dubai beckons, opting for a staycation becomes an enticing choice for both residents and visitors. Join us as we delve into the art of making the most of your getaway, embracing the comfort and convenience of holiday home services. Let's delve into the essence of Dubai, all from the comfort of your chosen holiday haven.
Why Choose a Staycation in Dubai?
Indulge in the exceptional allure of a staycation, all made possible by the exquisite Holiday Home Service in Dubai. Embrace the convenience of rediscovering your city through a fresh lens, immersing yourself in the city's hidden gems and captivating charm. Dubai, a melting pot of cultures and experiences, becomes an ideal backdrop for a staycation adventure. With a panorama of iconic landmarks and cultural riches, you'll find that opting for a staycation lets you uncover the city's secrets at your leisure. Discover Dubai anew, all while basking in the comforts of thoughtfully curated holiday home services.
       1. Authentic Travel Experience Through Holiday Home Services
Experience the essence of Dubai like a true insider with the exclusive Holiday Home Service in Dubai. Immerse yourself in the local rhythm, all while enjoying the comforts of a home away from home. Azco's dedication to providing personalized stays ensures that your journey is infused with the city's genuine spirit. From luxurious accommodations to cozy retreats, each holiday home resonates with Dubai's distinct character. Embark on an exploration that isn't confined to tourist routes but embraces the soul of the city. Your staycation comes alive through the authentic touch of Azco's holiday home services in the heart of Dubai.
       2. Selecting the Right Holiday Home for Your Staycation
Choosing the perfect haven for your staycation is effortlessly guided by Azco's unparalleled Holiday Home Services Dubai. Navigate through an array of options tailored to your preferences, whether you seek a city skyline view or a tranquil escape. Each holiday home is a testament to Dubai's diversity, ensuring a stay that resonates with your desires. Experience the city from your chosen abode, equipped with amenities that redefine comfort. Azco's commitment to delivering memorable stays shines through in each meticulously selected property, transforming your staycation into an extraordinary Dubai journey.
       3. Unveiling Dubai's Hidden Treasures
Embark on a captivating journey to explore Dubai's lesser-known gems through the lens of Azco's curated Holiday Home Services in Dubai. Beyond the iconic skyline lies a tapestry of local treasures waiting to be discovered. From quaint cafes tucked in historic neighborhoods to serene parks offering respite from the urban bustle, your staycation becomes a gateway to the city's best-kept secrets. Let Azco's holiday homes be your base for venturing into the uncharted, unveiling Dubai's heart and soul that often elude the casual traveler. Immerse yourself in authentic encounters that create lasting memories.
       4. Personalized Experiences: Tailoring Your Staycation
Elevate your Dubai staycation with tailor-made moments, expertly crafted by Azco's dedicated Holiday Homes Services in Dubai. Your preferences take center stage as Azco curates experiences that resonate with your desires. Whether it's arranging exclusive city tours, organizing cultural outings, or catering to specific needs, your stay becomes uniquely yours. Azco's commitment to providing a personalized touch ensures that each guest's journey is a reflection of their individuality. Immerse yourself in Dubai's offerings, enhanced by the convenience and thoughtfulness of Azco's holiday home services. Your staycation transforms into a collection of bespoke memories.
       5. Safety & Convenience
Azco's Commitment to Guests Experience Dubai with peace of mind, underpinned by Azco's unwavering Holidays Home Services in Dubai. Your safety and comfort are paramount, reflected in every aspect of your staycation. Azco takes pride in implementing stringent safety protocols, ensuring a secure environment for every guest. From contactless check-ins to well-maintained properties, every detail is meticulously attended to. Convenience is seamlessly woven into the fabric of your experience, as Azco's commitment extends beyond accommodation to facilitating a hassle-free journey. Discover Dubai while Azco's holiday home services cocoon you in a haven of safety and convenience.
       6. Relaxation & Rejuvenation
Turning Your Holiday Home into a Retreat Transform your chosen holiday home into a sanctuary of relaxation, complemented by Azco's curated Holiday Home Services in Dubai. Elevate your staycation with a tranquil ambiance carefully designed to soothe your senses. Create your own spa-like experience within the comforts of your temporary abode. Unwind amidst Dubai's dynamic energy, all while savoring the serenity of your personalized space. Azco's commitment to ensuring your rejuvenation extends from the amenities provided to the ambiance created. Your holiday home becomes a cocoon of relaxation, harmonizing Dubai's vibrancy with moments of calm.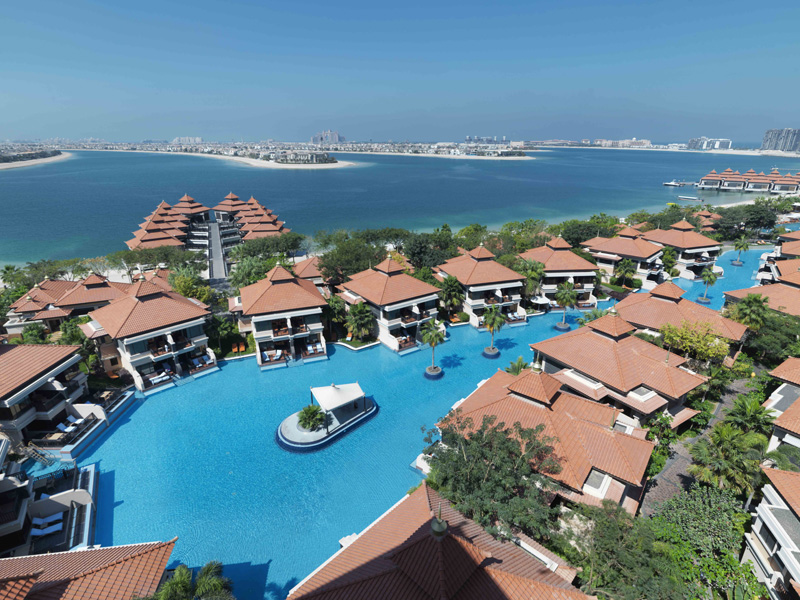 1. Can I Enjoy A True Travel Experience Even During A Staycation In Dubai?
Absolutely! With Azco's exceptional Holiday Home Service Dubai, you can dive into an authentic travel experience without leaving the city. Immerse yourself in local culture, attractions, and cuisine from the comfort of your chosen holiday home.
2. How Do I Choose The Right Holiday Home For My Staycation In Dubai?
Selecting the perfect holiday home is made easy with Azco's diverse range of options. Explore their curated properties, each offering unique features and locations. With Azco's Holiday Home Services in Dubai, you'll find a home that suits your preferences.
3. What Makes Dubai A Suitable City For A Staycation?
Dubai's blend of modernity and tradition makes it an exciting staycation destination. From luxurious malls to historic souks, and serene beaches to thrilling desert safaris, Dubai has it all. Azco's Holiday Home Dubai let you explore these attractions while staying in comfort.
4. Can I Experience Local Cuisine While Staying In A Holiday Home?
Absolutely! Azco's Holiday Home Service Dubai includes fully equipped kitchens. You can buy fresh local ingredients and whip up your favourite dishes, experiencing the city's flavours firsthand from the convenience of your holiday home.
5. Are Personalized Experiences Available For A Staycation In Dubai?
Yes, indeed. Azco offers personalized experiences that cater to your interests. Whether it's arranging guided tours, cultural outings, or unique activities, their Holiday Home Services in Dubai let you customize your staycation to your preferences.
6. What Safety Measures Are In Place To Ensure A Secure Staycation?
Your safety is a priority. Azco's Holiday Home Services in Dubai follow stringent safety protocols, including regular property maintenance and contactless check-ins. You can enjoy your staycation with peace of mind.
7. How Can I Turn My Holiday Home Into A Relaxation Haven?
Creating a serene ambiance is easy with Azco's help. Their Holiday Home Services in DXB offer well-designed spaces equipped with comforts that enhance relaxation. You can craft a peaceful atmosphere to unwind amidst the city's excitement.
8. What Convenient Amenities Are Provided By Azco For Staycation Guests?
Azco's Holiday Homes Services in Dubai encompass various amenities to make your staycation convenient. These include essentials like Wi-Fi, well-furnished interiors, and often access to fitness facilities and swimming pools for a complete experience.
Ready to Embark on Your Perfect Staycation in Dubai?
Experience the epitome of comfort, convenience, and authenticity with Azco Holiday Home Services. Explore our curated properties and personalize your getaway today. Discover Dubai anew from the comfort of our exceptional holiday homes.
Book now and redefine your staycation experience!